For announcements about new releases, please follow my author page on Amazon.com!
Current Releases featuring Leslie Marinelli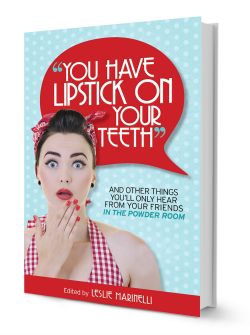 "You Have Lipstick on Your Teeth"
co-authored and edited by Leslie Marinelli
Thank God for girlfriends and shared visits to powder rooms! That's always been the concept behind my women's humor website, InThePowderRoom.com; now we're taking it to the next level with an anthology of original short stories from some of the wittiest women writers we know—stories they would only tell their closest friends, most likely from within the haven of a ladies' room. Inside you'll find 39 (mostly) true tales by women, for women, about being women—bodily changes, relationships, careers, motherhood, aging, illness, and more—written with the humor and grit that proudly sets In the Powder Room apart. But be forewarned: we're holding nothing back. We're revealing our deep dark secrets—because it's through our most vulnerable and honest moments that we forge the strongest connections and discover we aren't so alone after all.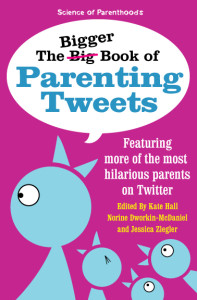 The Bigger Book of Parenting Tweets
edited by Kate Hall, Norine Dworkin-McDaniel, & Jessica Ziegler
Following the enormous success of their first book, The Big Book of Parenting Tweets, Science of Parenthood and Kate Hall are back with The BIGGER Book of Parenting Tweets, featuring EVEN MORE of the funniest parents on Twitter!
Venturing deep into the Twitterverse in search of even more hilarity, those intrepid editors discovered more than FIFTY of the funniest comedians who just happen to be parents. Together with still more of Science of Parenthood's signature cartoons and special "behind the tweets" stories, Book Two is BIGGER … it's BOLDER … and gosh darn it, people LIKE it! (Including Dr. Oz, who called it "Hilarious!")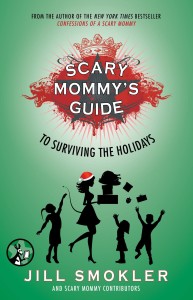 Scary Mommy's Guide to Surviving the Holidays
compiled by Jill Smokler
In this handy holiday guide, you'll find everything you need to survive the fall/winter rush of cheer in style, and without having a mental breakdown. From relatable, hilarious essays on everything from the Santa myth to being seated at the dreaded kids' table, to easy-to-follow recipes that might include just a little something special to take the edge off (can anyone say Kahlua?), to fun and accessible gift ideas, this book is your ticket to peace of mind—and a laugh—during the busy, crazy holiday season!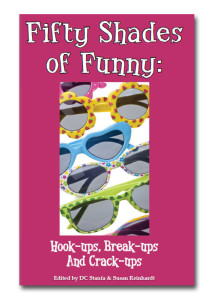 Fifty Shades of Funny
edited by DC Stanfa and Susan Reinhardt
When people unite, misadventures ignite. Relationships can be chaotic, and sex is never as smoothly choreographed as it is in The Young and the Restless. Authors/Editors Susan Reinhardt, award-winning columnist for Asheville Citizen-Times and author of four books, including "Not Tonight Honey, Wait 'Til I'm A Size Six," and DC Stanfa, author of "The Art Of Table Dancing: Escapades Of An Irreverent Woman," compile a refreshing regalement of stories, ranging from strange to hysterical, in this PG-13 (ish) rated anthology.
This page contains Amazon affiliate links.